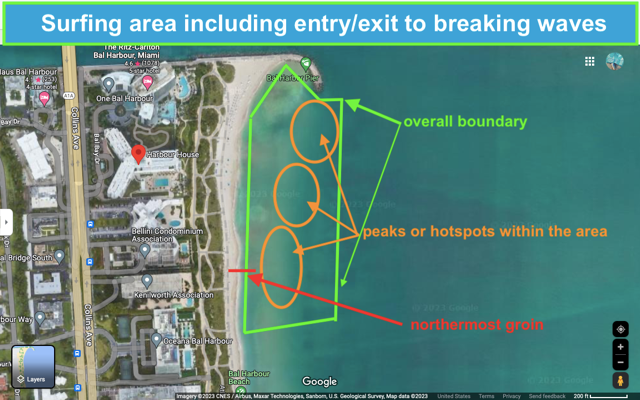 11.14.23
Surfrider Miami a clear voice protecting surf break access as Bal Harbour Village seeks solution to blossoming sargassum seaweed problem
By Admin
By Mike Gibaldi, Surfrider Miami Chapter Vice Chair
Of all the beaches in Miami-Dade County, the northernmost stretch of the Bal Harbour Village receives the heaviest concentration of problematic sargassum seaweed accumulation.
Commercial & residential interests of the properties immediately upland of this stretch that stops at the Haulover Inlet South Jetty, pushed their Village to find solutions to reduce the problem that was fouling the beautiful shoreline and negatively impacting their businesses.
The south side of Haulover's South Jetty is one of the top surfing breaks in South Florida and draws thousands of surfers every year when weather patterns create rideable waves. Surfrider Miami leadership enjoys a solid relationship and dialogue with Village leadership to ensure access and enjoyment of this special surfing resource is protected.
The Village hired the well-respected coastal engineering firm, Cummins Cederburg (CC) to analyze the issue and recommend options which included devices placed in the water designed to block the sargassum from washing up and fouling the shoreline. Part of CC's analysis & report included interviewing all major stakeholders. Surfrider was among those stakeholders and on July 14, Chapter Vice Chair, Mike Gibaldi, and Past Chair and Core Member, Scott Stripling, met with CC to learn details of the draft report and to share our input from surfers' perspective.
The floating device schemes and particularly the locations of proposed devices would most definitely negatively impact surfing access and safety. In addition to the feedback CC gathered, Gibaldi sent a formal comment letter and map exhibit (attached) to Village Manager, Jorge Gonzalez, on July 15th. Gonzalez acknowledged the letter, thanked us, and entered it into the formal record for the July 18 public Council Meeting – YESSS!
Since Chapter leadership was not able to attend the meeting on the 18th, local Surfrider supporter, Village resident and also key stakeholder, Scott Paine, owner of Island Water Sports Surf Shop, attended on behalf of Surfrider and the surfing community. (Thanks Scott who was there late into the night!)
We were thrilled to hear from Scott that right after the item was introduced at the public meeting, Surfrider's input was called out loud & clear and the importance of the area for recreational surfing was acknowledged.
This is a classic example of Surfrider's grassroots activism in action - to protect the ocean, waves and beaches for the enjoyment of all.
Surfrider Miami will continue to monitor Bal Harbour Village's plans to address the seasonal sargassum seaweed issue and make sure our special surfing beach is not negatively impacted.